Established patent firm with exceptional pharmaceutical sector knowledge
Our client portfolio covers the spectrum of small businesses to industry leading FTSE 100 companies, including start-ups, academic research organisations, university spin-outs and venture capital funds. We have built our first-class reputation on the results we achieve for our clients and much of our new business comes through recommendations.
For the 5th year running we have been ranked as one of Europe's Leading Patent Law Firms by the Financial Times and Statista, maintaining our previous Gold rating in both the Chemistry & Pharmaceuticals and Biotechnology, Food & Healthcare categories.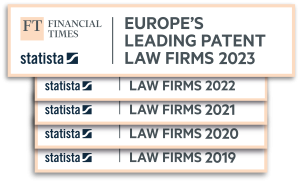 The Unitary Patent & Unified Patent Court
The Unified Patent Court Agreement providing a Unitary Patent (UP) and Unified Patent Court (UPC) in Europe came into force on 1 June 2023.  This provides new options for European patent applications upon grant, giving potentially significant cost-savings for validation and renewals.  However, it also affects European patents (EPs) granted and validated under the standard EP system, unless they have been opted-out of the UPC's jurisdiction.  Please contact us for further information or assistance.
While the UK is not part of the UP/UPC system following the UK's departure from the EU, this does not affect our ability to continue to file and prosecute EPs and UPs, or the ability to validate a granted EP in the UK.
Please contact us for further information on our services.