Established patent firm with exceptional pharmaceutical sector knowledge
Our client portfolio covers the spectrum of small businesses to industry leading FTSE 100 companies, including start-ups, academic research organisations, university spin-outs and venture capital funds. We have built our first-class reputation on the results we achieve for our clients and much of our new business comes through recommendations.
We have been ranked as one of Europe's Leading Patent Law Firms in 2019 by the Financial Times and Statista.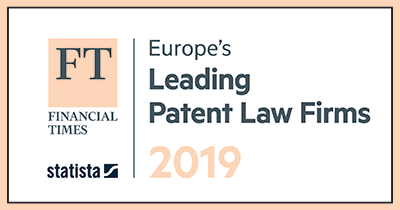 UK EU Referendum
On 23 June 2016 the United Kingdom (UK) voted to leave the European Union (EU). The European Patent Convention (EPC) is entirely independent from the EU. Therefore, the result of the vote will not impact the UK's membership of the EPC. As a UK-based firm of patent attorneys, Sagittarius IP will continue to be able to file European patent applications and we will continue to be able to handle clients' present and future cases at the EPO. A granted European patent will continue to become a bundle of national patents in all validated states including the UK.
Please contact us for further information on our services.